Product Description
ESCALE DIVINE is a blend of Sesame, Baobab and Coconut oils in which have macerated hand-picked Ylang-ylang and Orchid flowers. This semi-dry oil reveals their smoothing and antioxidant properties and will nourishes body, face and hair, leaving a subtle fragrance.
Results: the skin is perfectly moisturized, the face is regenerated and the hair is revitalized.
---
. Skin type .
All skin types.
Ideal for damaged, dry or dehydrated skin, even for oily skin. 
. Concerns .
→ dryness
→ lack of firmness
→first signs of ageing
→ pollution and stress
. Well-being benefits .
In Indian medicine, the regular use of oil helps to rehydrate the skin, to disperse the toxins and to improve the dermis quality. The oil, instantly absorbed by hair follicles, quickly reaches the blood, which is the major vehicle of life and energy.
---
Key ingredients
---
Ylang-ylang macerate from Indian Ocean islands:
With toning and revitalizing properties.
Orchid macerate:
With anti-oxidant and soothing properties.
Sesame oil:
With anti-oxidant and softening properties.
Baobab oil from Austral Africa:
With moisturizing and regenerating properties.
Coconut oil from India:
With protective and nourishing properties.
99.5 % of ingredients from natural origin
98.3 % of organic ingredients 
100 % natural fragrance
Ingredients list:
Sesamum Indicum (Sesam) Seed Oil*, Adansonia Digitata (Baobab) Seed Oil*, Cocos Nucifera (Coconut) Oil*, Parfum (Fragrance), Cananga Odorata (Ylang-Ylang) Flower Extract*, Dendrobium Nobile (Orchid) Extract*, Dehydroacetic Acid, Tocopherol, Linalool, Geraniol, Citronellol, Limonene, Citral, Eugenol
* Ingredients from organic farming
Use
---
ESCALE DIVINE is a "multifonction" beauty oil that repairs and softens skin and hair in all seasons.
Apply to body, in the morning or evening, after shower.
Apply to hair like a hair mask before shampoo, on dry ends and massage the scalp. Leave it for twenty minutes.
Apply to face like a serum for a deep hydration and for an anti-oxidant effect.
You can also use it as a makeup remover for face.
Your surprise !
---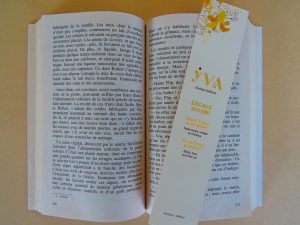 We offer you a bookmark to cut on the back of your case.
Follow the steps below:
1- After removing the bottle from the case, remove the white protective shim inside.
2- Carefully peel off the case from the inside in order to put it flat.
3- Follow the dotted lines to trim your bookmark.
Good reading with YVA Océan Indien !
. . . . . . . . . . . . . . . . . . . . . . . . . . . . . . . . . . . . . . .


Stories and traditional uses of Ylang-ylang 


. . . .
The picking of Ylang-ylang is traditionally hand-made. The beautiful yellow flowers are then carefully put in a basket made from coconut leaves. The flowers are used for the distillation of the famous essential oil made for perfumery or traditionally macerated in oil for softer fragrance and properties.
It is particularly in Mayotte island that the French perfumer Guerlain planted hectares of Ylang-ylang trees during many years. We still call this mythical place "la plantation Guerlain"…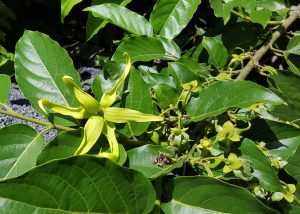 . . . . . . . . . . . . . . . . . . . . . . . . . . . . . . . . . . . . . . .